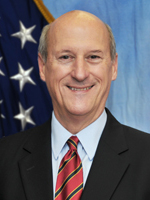 In May 2012, Judge John Allen was appointed Deputy Chief Administrative Law Judge for the Social Security Administration (SSA). In that capacity, Judge Allen supports and shares oversight responsibility with the Chief Administrative Law Judge for SSA's national hearing operation.
Judge Allen was appointed Administrative Law Judge in April 2008 and initially assigned to the Columbus, Ohio hearing office. Thereafter, Judge Allen was appointed Hearing Office Chief ALJ for the Columbus, OH hearing office in October 2009. Immediately prior to his formal appointment with the Agency,
Judge Allen was the founding partner in a law firm representing individuals primarily in the areas of Workers' Compensation and Social Security. He practiced in that area for over 32 years.
Judge Allen holds a B.A. from Ashland University, a J.D. from Ohio State University and is admitted to the Ohio Bar.
Judge Allen will present, "An ALJ Perspective" on Monday, August 10 at the Monarch Hotel.